Plan your weekly tasks and schedules in Evernote with Filterize
You already use Evernote as your task repository? Then take the next step with our task planner! Plan when to do or finish your tasks and create an overview for your week and the future, just by adding tags!
Merlin Mechler created this awesome automation, which was just available in german. So we decided to make an english version of this great automation, we just modified it a bit.
And this is how your task planner could look like: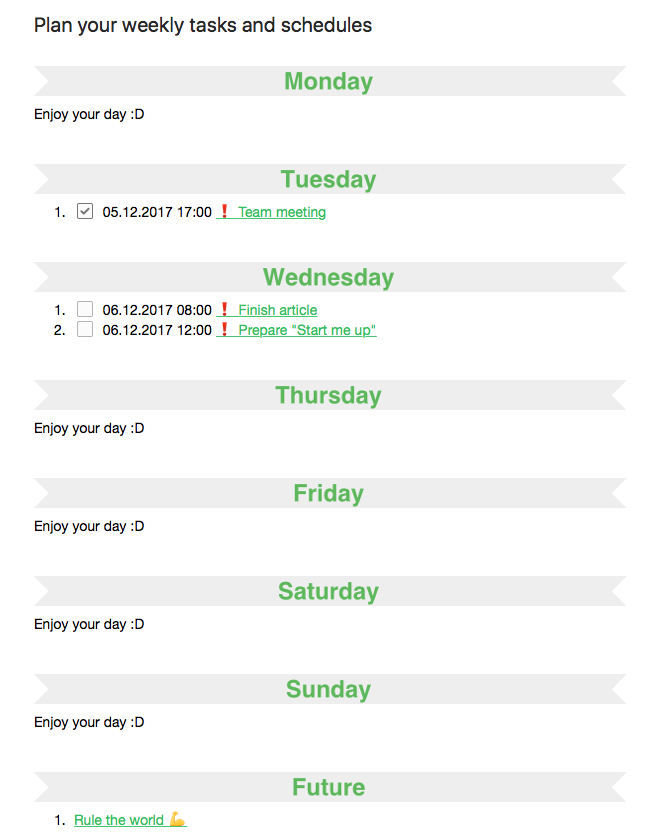 What does this automation for you?
It creates an weekly overview of all things you have planned to do during the week and of those waiting in the future for you.
Your task has an reminder to keep a deadline in mind? The reminder times will be shown at the entries begin inside your task planner note.
Once an hour or every time you modify your task planner note, the weekly overview will be refreshed. Then new tasks will be listed or existing ones will move, if you postpone a task.
How to use it in Evernote:
Open a task in Evernote, decide when to work on it or when to finish it, e.g. Wednesday and add the related tag.
DONE! This task now will be automatically added to your overview .
You need to postpone a task? No big deal. Remove the existing weekday tag and add the new one.
Of course you can plan one task for a longer period. Then just add all relevant weekday tags, e.g. weekend trip with our kids from Friday to Sunday. Then add friday, saturday and sunday to your task note.
The future tag will be automatically removed, when you add a weekday tag. So you don't have to remove it by yourselfs.
How to integrate this automation to your Evernote:
Import the automation from our Lounge, but please

adopt the given tags, otherwise it won't work:
Planner for your weekly tasks and schedules
Download the master note we prepared for you and import it to one of your Evernote notebooks: Planner for my weekly tasks.enex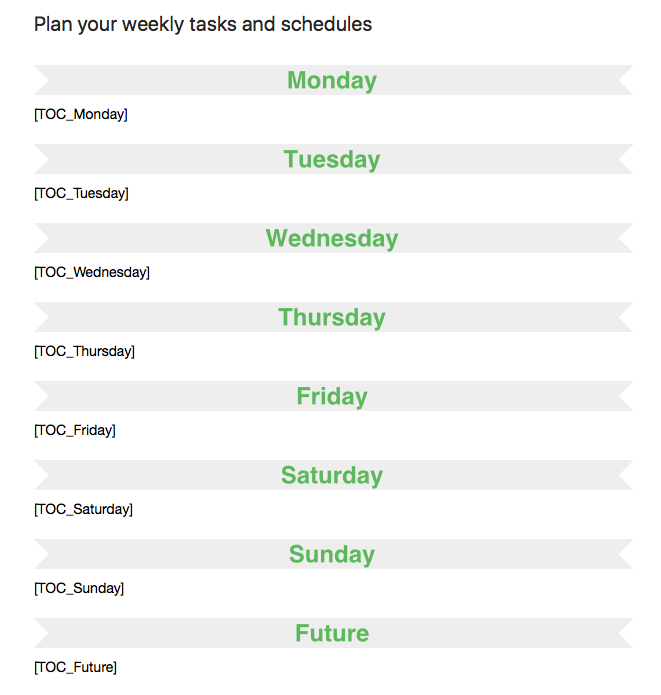 Or create your own master note. You need the 7 days + future and at each section, you have to add the specific marker. So at Monday add [TOC_Monday] and so on, same way we did at our master note. This way Filterize knows, where to place your overview.


Great addition:
Do you know our Recurring reminder workflow? Its daily reminder option will help to keep your task planer in mind 😉 This way it will be hard to miss a task.
You like that automation, but you need to adjust it to your own needs?

Again, no big deal. Install that automation and afterwards visit console.filterize.net. Look at Filter, open the stack you have stored the automation in and now modify it the way you like.
Have fun trying out your new automation,
yours Sandra.
---
Filterize is a cloud service that acts as your personal Evernote assistant. Tell the software how you organize your notes or just let its Artificial Intelligence learn how to do it automatically. Filterize will then manage your notes in the background, eliminating repetitive tasks, avoiding errors and saving you time.